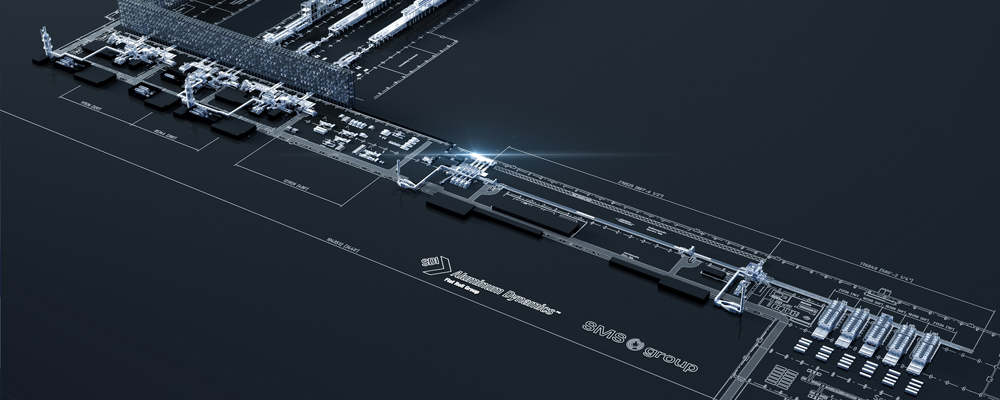 SMS group awarded aluminum flat rolling mill order by Steel Dynamics
The first aluminum facility for Steel Dynamics Inc. will produce sheet for cans, vehicles, and industrial applications and will boast a total annual capacity of 650,000 tons
In entering the flat rolled aluminum products market, SDI is placing its trust in SMS group as a leading partner in the world of metals and in their long, shared history in the steel industry
A considerable proportion of recycled aluminum scrap will be used as input material for manufacturing, thus making a significant contribution to sustainable aluminum production
Steel Dynamics Inc., a North American steel producer and metals recycler, recently placed an order with SMS group for the supply of a new state-of-the-art aluminum flat rolling mill for Aluminum Dynamics, LLC, a joint venture of Steel Dynamics Inc., to be built in Columbus, Mississippi. SMS will supply the integrated hot and cold rolling complex for a production capacity of 650,000 metric tons of aluminum strip per year, mainly for applications in the sustainable beverage packaging, automotive, and common alloy markets. 

SMS, the world market leader for aluminum hot and cold rolling mills, was selected for this project based on its technological expertise and the long-standing history shared by SMS and SDI. SMS group's relationship with SDI stretches back to the mid-1990s when the two partners completed a large number of successful projects, the most recent being their newest steelmaking facility in Sinton, Texas.

SMS group's main order scope includes the hot strip mill, two tandem cold mills, a single-stand cold rolling mill, and two high-bay storage systems. All plants will be supplied from one source, including integrated SMS group solutions for the electrical and automation equipment. Thanks to this integrated approach, SMS is ensuring that the electrical and automation systems work in perfect harmony, helping to shorten the plant ramp-up time and increase the overall performance of the entire aluminum flat rolling mill. 

The rolling mill complex is expected to start production in the first half of 2025. 

The new facility will utilize a significant amount of aluminum scrap, provided by SDI's metals recycling platform OmniSource. SDI intends to apply its experience and knowledge in the field of metals recycling in the production of flat rolled aluminum products. There is even the option of upgrading secondary aluminum scrap, as new sorting technologies are now available. This will help to raise production to a new level of efficiency and quality. Alongside the technological expertise, customers are set to benefit from SDI's sustainable and customer-centric approach in the market for aluminum flat rolled products. With its new production complex, SDI plans to satisfy growing demand in the sustainable beverage can industry.