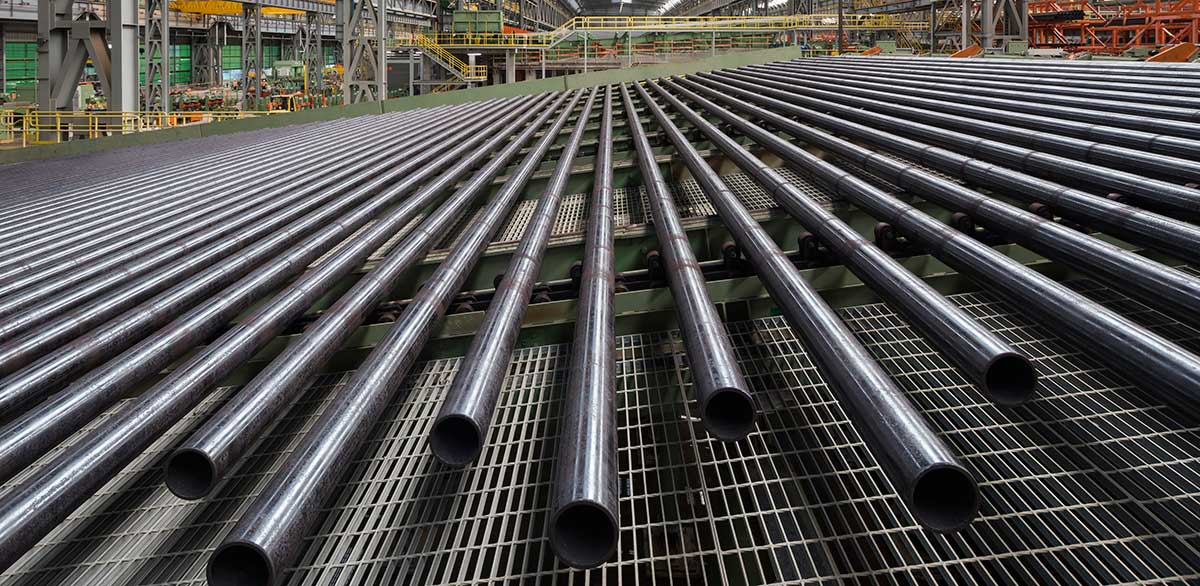 PQF® seamless tube production underway in advanced Texas plant
Tenaris has successfully started production at its seamless pipe mill in Bay City, Texas, about 80 miles southwest of Houston. The company invested a total of 1.8 billion dollars in the plant, located near the most active shale plays in the United States. The plant manufactures tempered oil country tubular goods for use in the production of natural gas and crude oil. The new PQF® tube mill, erected by SMS group, is designed to produce 600,000 tons per year precision seamless tubes with diameters of up to 9 5/8 inches.
The high-strength PQF® seamless tubes produced at the new mill are mainly used for casing applications as well as line pipe. With its Rig Direct® strategy, Tenaris is synchronizing its pipe manufacturing with customer drilling operations to reduce storage, maintenance and inspection costs.
High-quality tubes for the domestic oil and gas industry
In the past, the U.S. had to import a significant portion of the tubes required for shale gas production from Asia and other parts of the world. "Our goal is to make the tube and pipe industry more effective and to drastically reduce imports for our market," says Germán Curá, President of Tenaris North America. Analysts and market experts see huge opportunities for success in the strategy being pursued by Tenaris, which may also give the company a significant competitive advantage.
SMS group has worked very closely with Tenaris on the installation of state-of-the-art production technology for seamless tubes that satisfies the challenging requirements concerning both quality and tolerances as per API standards. Speaking of the new plant, Germán Curá goes on to say: "It is the most advanced production facility in our industry worldwide."
Close partnership for world's most advanced tube plant
In 2008, SMS group erected a PQF® seamless tube plant for Tenaris at its mill in Mexico. Norbert Theelen, Head of Long Products at SMS group, adds: "We had already built a seven inches PQF® plant for Tenaris in Veracruz, Mexico. Building on our experience from this, our experts worked closely with the customer's teams to set out objectives for the new plant and had already agreed their planned course of action during the engineering phase. There was intensive cooperation among all parties involved, that is, between Tenaris, our Tube and Pipe Plants division in Mönchengladbach, SMS Innse in Milan, and SMS Elotherm in Remscheid. We got together for regular steering committee meetings to ensure there was a continuous exchange of information and ideas. It was this close partnership that enabled us to meet Tenaris's precise requirements."
During the construction phase, an average of 1,400 skilled specialists, fitters, technicians, and engineers were deployed on site, which covers an area of 110,000 square meters. The first pipe was rolled in October 2017, and the plant was officially inaugurated in December. Thanks to the very close proximity to the customer and the cooperative development of new plants and processes for new materials, SMS group is bringing its motto of "Leading Partner in the World of Metals" to life. The cooperation with Tenaris was an example of this.
SMS group supplied the plant technology and related engineering for its construction, and was responsible for the erection and commissioning supervision, including customer training. The main units of the PQF® plant include:
• Billet preparation section and saws
• Rotary hearth furnace
• Barrel-type piercing mill with Diescher disks, equipped for the first time with a hydraulic adjustment system
• PQF® rolling mill of BCO design
• Extracting mill
• Induction furnace for shell reheating
• 24-stand stretch reducing mill
• Cooling bed and batch layer saws
Cost efficiency thanks to extensive automation and maintenance-friendly design
Compared to previous industry standards, the new Tenaris plant is twice as efficient when it comes to high-quality seamless tube production. This is made possible thanks to, among other things, the high degree of automation and the use of robots, which convey the steel from one station to the next in a fully automatic process. Most of the crew works in the control room, in adjacent buildings, or below the production line, where they have easier access to the machine components for maintenance purposes. "Our process is fully automatic", says Curá. In addition, every tube is given an identification mark, similar to a barcode, meaning the customer can trace the precise specifications using a scanner or smartphone." In view of the challenging conditions in oil or gas fields, this smart means of tracing tube documentation is making a significant contribution to total quality assurance.
To this end, SMS group has equipped the new PQF® seamless tube plant with a wide range of automated, state-of-the-art technology. Norbert Theelen from SMS group: "Our advanced level of digitization allows Tenaris to make substantial time savings and achieve optimum transparency as regards the current plant and production status. This is further enhanced by a host of other added value sources that boost efficiency levels. Tenaris is a trailblazer for modern plant and equipment that combine the benefits of digitization. For example, we have installed a secure WiFi network throughout the whole plant. This gives the operating crew access to information they need via mobile panels and to completely new ways of working."
The basis for the automation used at TenarisBayCity is provided by the CARTA® (Computer-Aided Rolling Technology Application) technology system, which is used as a technological production planning and process control system for the entire hot rolling section of the seamless tube mill. CARTA® consists of three modules. The process-planning module prepares the rolling mill settings and the tool design. The process management module controls the rolling process in real time, and saves and analyzes the process data. The tool management module is responsible for the precise and timely use of the tools. So the benefits of CARTA® are numerous. This technology system offers not only increased output but enhanced tube quality and optimized mill utilization, too.
The measuring data used by CARTA® to monitor the quality are provided by systems such as CaliView®, which is supplied by SMS group. This is a newly developed inline system of measuring rolls and passes which are installed in the mill. A camera is used to take fast, precise and non-contact measurements of the stands inline, and to align them perfectly. Time-consuming, manual measurements are no longer required. CaliView® ensures there is direct feedback to a mobile control device, meaning the rolls can be precisely adjusted during the measurement. What's more, the system detects wear on the work rolls and logs the data for producing informative statistics.
SMS group also implemented a holistic tracking solution for material and individual tube tracking. Production and quality-related tube parameters are measured at every machine during this process. The Identification Database software tool uses data gathering terminals (DGT) to collect the relevant information at each specified station and assigns this automatically to the tube number.
The system provides production and quality reports in real time, statistical reports for identifying quality-related problems or production bottlenecks, and a comprehensive database for developing production and process know-how.
It is not just the tubes and production processes that are continuously tracked, the tools are too, especially the mill stands and mandrels, and for this they are equipped with around 850 chips and