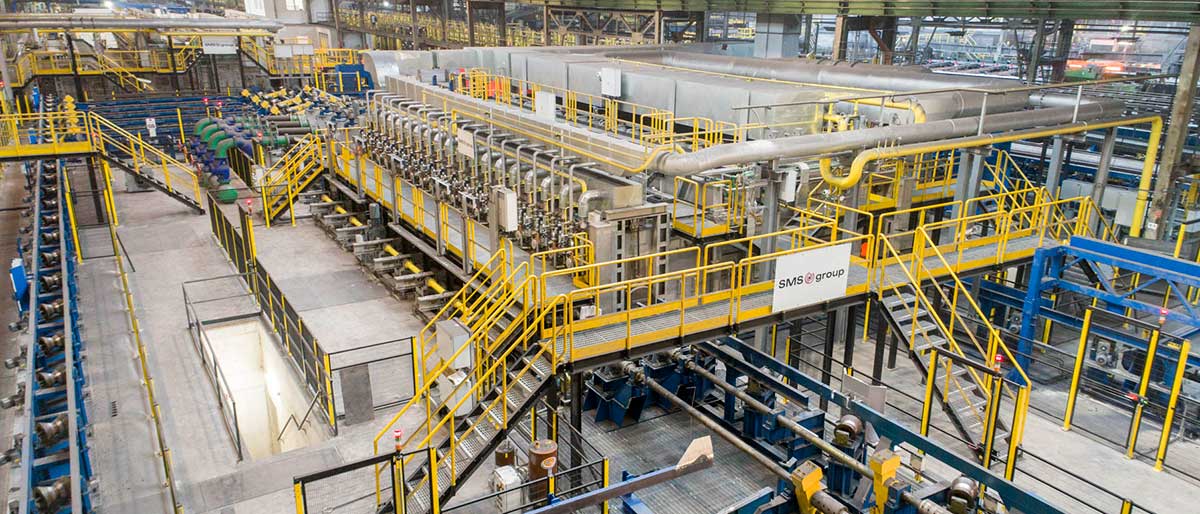 The annealing furnace is fired with eco-friendly digitally controlled recuperator burners.
voestalpine Tubulars commissions new heat treatment line and hot tube straightener from SMS group
voestalpine Tubulars GmbH & Co KG based in Kindberg-Aumühl, Styria, Austria, has successfully commissioned a new heat treatment line and a hot tube straightening machine supplied by SMS group (www.sms-group.com). The line is designed for seamless tubes with outside diameters between 60.3 and 273.0 millimeters. It can process steel grades with alloying contents of up to approx. 20 percent.
The line has a maximum capacity of 25 tons per hour. With this new line, voestalpine is strengthening its market position as a supplier of seamless tubes for oil and gas exploration.
The heat treatment line supplied by SMS group consists of a walking beam type austenitizing furnace, an SMS Quenching Head, a cooling table for normalizing, a tempering furnace, also of walking beam design, a cooling bed and two sawing stations for sample cutting. This equipment allows voestalpine Tubulars to perform various different heat treatments such as quenching, tempering, and normalizing in one single line.
Today the heat treatment line can handle tubes with wall thicknesses of up to 25 millimeters. The line is designed to be expanded by an additional quenching unit at a later stage in order to process tubes with wall thicknesses greater than 30 millimeters.
The cross-roll straightener with ten individually controlled rolls has a very sturdy design and allows rapid roll changing for minimum standstill times. The line is controlled fully automatically.
Thanks to the high product flexibility of the line, also small batches and a great number of different product groups can be processed highly cost-efficiently.
The use of eco-friendly, extremely low-NOx recuperator burners in the furnaces saves up to five percent of fuel compared to conventional burners. The water treatment plant cools and filters up to 1,800 cubic meters of water per hour, reducing fresh water requirements to less than three percent.
SMS group received the Final Acceptance Certificate after only two months of intensive testing in close cooperation with the engineers of voestalpine Tubulars. During these tests, all performance parameters (specific fuel consumption, temperature uniformity, production rate and final tube quality) were successfully reached.