Welcome
Ladies and Gentlemen
"Without being aware of it", says worldsteel, "society now depends on steel. Humankind's future success in meeting challenges such as climate change, poverty, population growth, water distribution and energy limited by a lower carbon world depends on applications of steel."
So it stands to reason that the steel economy not only reflects the health of global economies, but also impacts the wider economy.
Steel prices and production trends tend to be seen as a barometer of global economic activity, since steel is used in so many sectors; car making, construction and manufacturing are all significant steel markets.
Steel continues to be at the centre of innovative processes everywhere, so even as energy production and distribution, construction methods or car making standards progress, new steel – and steel pipe – production methods and new materials are constantly in demand.
Research reports also indicate that the outlook for the steel pipe industry has improved slightly since 2016. A major factor here is thought to be the return of investment activities in the energy sector, which the crude oil price collapse in 2015 brought to an almost complete standstill.
The excitement generated by the prospect of growth and innovation within the pipe and tube industry is making itself felt as the next Tube fair draws closer. The Messe Düsseldorf press office released figures back in late January that showed the best results ever in the over 30-year history of this industry-leading event: at least 965 exhibitors from 53 nations have booked over 559,700 square feet (52,000 sq.m.) of net exhibit space at Tube 2018.
The range of showcased products will include machinery and equipment for tube production, treatment and processing as well as measuring, control and test equipment. Other segments will cover pipeline and OCTG technology, profiles and machinery, as well as plastic tubes.
The Association will be there, as always (booth F17, Hall 4). And, as always, we extend an invitation to all members, friends and colleagues to visit us there at any time throughout the course of the exhibition. Members make sure you get your free one-day tickets and utilize the many marketing and hosting opportunities we offer.
Here on the website, we will continue to bring you news of all the preparations and as always, ensure that our members gain access to every discount and other VIP option we can lay our hands on. We look forward to many great opportunities throughout the rest of the year! We shall see you there.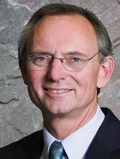 Dr. Gunther Voswinckel, President of the ITA
---
About us
The ITA – International Tube Association – is the largest and most infl uential association for engineers, suppliers, manufacturers and other professionals in the tube and pipe industry
The ITA is a non-profi t organisation entirely committed to the promotion of education, technical development, exchange, technical excellence, networking and marketing support for its members in the worldwide tube industry
The ITA is the industry partner of the Messe Düsseldorf Group for all its "TUBE" shows worldwide (Tube Düsseldorf as well as the Tube shows in Brazil, China, Russia, Thailand and the UAE)
The ITA has over 800 members in some 70 countries
The ITA is built on three pillars:
Exchange – Networking – Marketing Support