Welcome
Dear Ladies and Gentlemen
"Nothing is more constant than change" is an often quoted saying attributed to the Greek philosopher Heraklit. More optimistic and even action-oriented is the following well-known Chinese saying that "In every crisis there is an opportunity".
Indeed, we have seen a lot of crises on the international, financial, political and European level within the last twelve month, followed by a variety of different solutions, some of them successful, others worth being reconsidered. Without being a visionary, I dare to predict that we will not get bored the upcoming twelve month …
Even our association, which exists steadily and strongly and will celebrate its 35th anniversary next year, has seen tremendous changes in the course of the last year. Firstly we had a change in our organizational and personnel structure, followed by a relocation and eventually a deplorable but inescapable separation. An order of events in such a high density within such a short time, that even I, who joined the ITA over thirty years ago and has been ITA president over the last 3 years, was sometimes utterly amazed.
But I am even more pleased to see, how successful we have met all the challenges that have been set to us. Due to the excellent work of Phillip Knight and his assistants Debi Coleman and Jackie Dickinson for more than fifteen years, Peter Byroslawsky, who succeeded Phillip as Executive Secretary in March 2012, could start on a well-constituted field. Peter Byroslawsky does and will continuously restructure the ITA step by step - together with the members of the IEMB. One of the ITA's pillars – the ITA homepage - had undergone a relaunch completely in design and structure. The new ITA website has now a variety of new functions and columns additionally to the once you are used to.
The same process happened to the ITA's newsletter (ITAN). The new journal – ITAtube Journal – will be a combination of the former ITAN newsletter format together with magazine features. Our new publication will replace the TPT and TPI magazines we have given up due to the separation from Intras. However, we are eager not only to replace lost items, but to improve the standards, which ones have been set.
I am deeply convinced that we will succeed in doing so – steadily and strongly. We kindly ask for your encouragement in building up a new ITA international network and worldwide community.
"Every ending can mark a new beginning", goes another saying, composed by Homer. Even without being a visionary holistic, I predict that this will come true.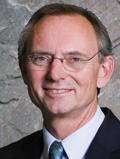 Dr. Gunther Voswinckel, President of the ITA
---
About us
The ITA – International Tube Association – is the largest and most infl uential association for engineers, suppliers, manufacturers and other professionals in the tube and pipe industry
The ITA is a non-profi t organisation entirely committed to the promotion of education, technical development, exchange, technical excellence, networking and marketing support for its members in the worldwide tube industry
The ITA is the industry partner of the Messe Düsseldorf Group for all its "TUBE" shows worldwide (Tube Düsseldorf as well as the Tube shows in Brazil, China, Russia, Thailand and the UAE)
The ITA has over 800 members in some 70 countries
The ITA is built on three pillars:
Exchange – Networking – Marketing Support